Armenian tanks in battle, September 2020
The events of recent days in Nagorno-Karabakh may have the most serious consequences. The observed limited conflict in the shortest possible time can develop into a full-scale war, incl. with the involvement of third countries. Azerbaijan and Armenia are already preparing for more active actions, carrying out mobilization and other measures. It is necessary to consider the strength and capabilities of the participants in a possible war.
General issues
The National Army of Azerbaijan (NAA) is quite large and one of the strongest in the region. Thus, the Global Firepower rating puts it in 64th place in the world – significantly higher than its likely opponents. According to The Military Balance 2020, the total number of the NAA reaches almost 67 thousand people, most of whom serve in the ground forces. There is a reserve of up to 300 thousand people. The NAA includes ground forces, air force and naval forces, but the latter can not be considered in the context of the Nagorno-Karabakh conflict.
The armed forces of Armenia are less numerous, and their potential is estimated lower. TMB reports about 45 thousand troops and 210 thousand reserve. Global Firepower ranks Armenia 111th out of 138 in the world. Due to its geographical location, the Armenian army includes only ground forces, air forces and air defense forces.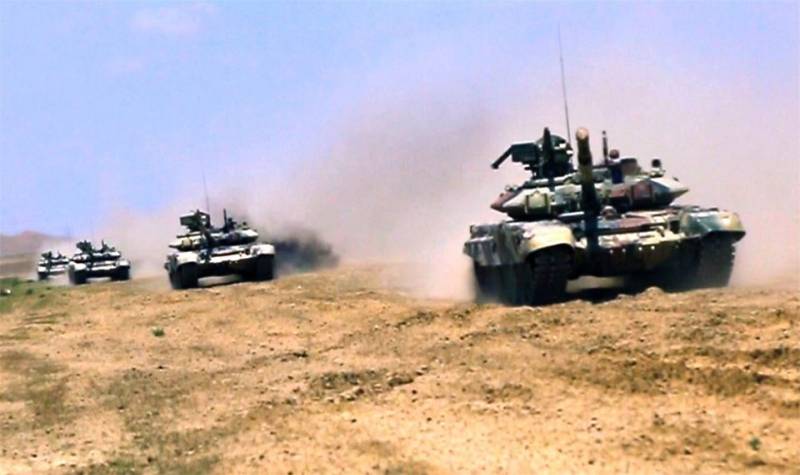 NAA tanks on exercises
It is also necessary to consider the defense potential of the unrecognized NKR, actively cooperating with Armenia. Up to 20 thousand people serve in the NKR Defense Army. with a reserve of up to 90-100 thousand. According to known data, military construction in the republic is carried out with the direct support of Yerevan. Assistance is provided with the solution of organizational issues, with the training of personnel, with equipment, etc. The specificity of the situation is such that in a number of situations it is impossible to determine which part of the military potential belongs directly to the NKR, and which is provided by friendly Armenia.
It should be noted that the numerical indicators of the three armies are now quite difficult to track. The reference books provide data as of the beginning of the year, but in the last days the parties to the conflict managed to suffer significant losses. At the same time, there is still no exact data on killed soldiers and destroyed equipment.
Land forces of Azerbaijan
The ground forces of Azerbaijan include 5 corps, between which 23 motorized rifle brigades are distributed. In the latter, there are infantry and tank battalions, as well as support units. There are two separate artillery brigades equipped with barrel and rocket systems, an engineering brigade, and several other formations.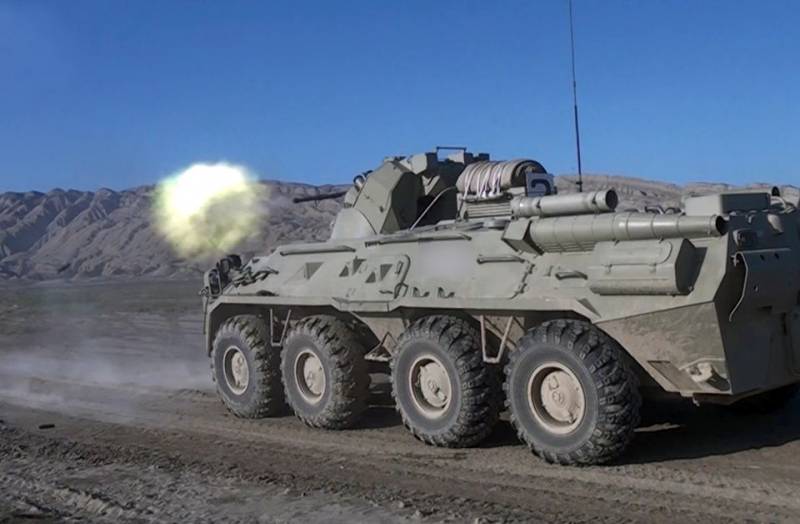 Azerbaijani motorized infantry on maneuvers
According to TMB, at the beginning of this year, the NAA had 439 tanks, the basis of this grouping were T-72 of various modifications (more than 240 units) and T-90S (100 units). Motorized infantry uses more than 780 armored vehicles of various types. There are both old samples of Soviet production and new imported equipment. To combat enemy tanks, 10 self-propelled ATGM "Chrysanthemum" are intended; there is a large number of portable ATGM systems.
NAA has a fairly high missile and artillery potential. There are 12 self-propelled guns 2S7 "Pion" with 203-mm guns. Also in operation there are more than 35 self-propelled guns of 152 or 155 mm of several types. The most massive self-propelled gun in the army remains the 2S1 "Carnation" – 44 units. There are 36 CJSC "Nona" and "Vienna". Towed artillery includes more than 200 units. armament with caliber up to 152 mm. The rocket artillery contains almost 150 units. MLRS of different types. There are both old Soviet "Grads" of 122 mm caliber, and modern 300-mm systems of foreign production.
Azerbaijan is armed with operational-tactical missile systems. These are four "Tochka-U" and two LORA products made in Israel. With their help, it is possible to defeat targets at a great depth of defense.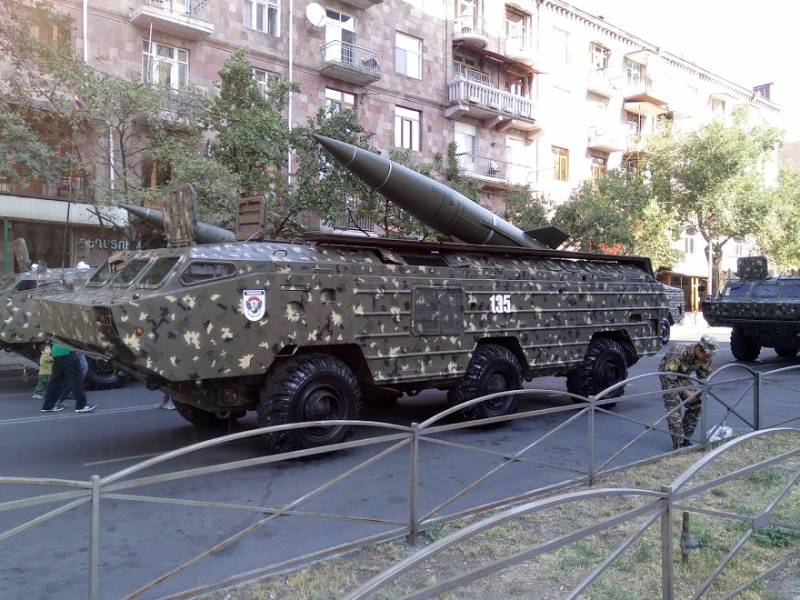 "Tochka-U" of the Armenian army
Military air defense as part of the NAA is built on the basis of Soviet and Russian-made complexes, mainly of old types. There are samples of different classes, from portable to medium-range air defense systems. Also in service are the ZU-23-2 / 4 towed and self-propelled installations.
Armenian army
The ground forces of Armenia have 5 combined-arms corps, including infantry, tank, artillery, anti-aircraft and other units. There are also two separate artillery brigades, an engineer regiment, etc.
The main striking force of the army is tank units, which have more than 100 armored vehicles of several types. Basically it is T-72A / B. The fleet of infantry armored vehicles includes 360 armored personnel carriers and infantry fighting vehicles of Soviet production. There is an unknown number of MT-LB transporters, BRDM-2 armored vehicles, engineering vehicles of several types, etc. More than 20 self-propelled ATGMs "Kornet", "Konkurs" and "Shturm" are used.
Self-propelled barrel artillery includes approx. 30 units equipment, mainly self-propelled guns 2S3 "Akatsia" caliber 152 mm. Towed artillery – more than 130 guns of several types. In rocket artillery, 60 systems of three types are involved; the most powerful samples – 6 units. 9K58 "Smerch".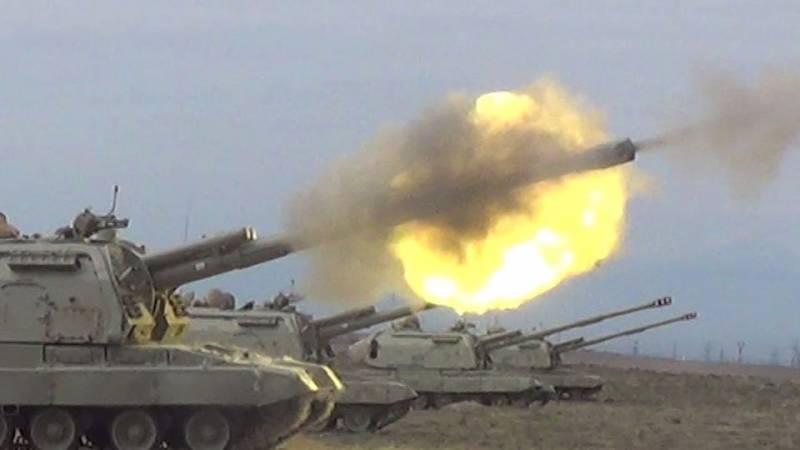 ACS "Msta-S" of the army of Azerbaijan
The Rocket Forces also have 16 OTRKs. This is up to 8 complexes "Elbrus", 4 "Tochki-U" and 4 "Iskander-M". These OTRKs differ in their characteristics and capabilities, but their joint operation provides a certain flexibility of use.
The air defense of the ground forces was built using old and new models of Soviet and Russian production. There are Igla and Verba MANPADS, various short- and medium-range systems such as Osa, Cub, etc. Such rarities as the S-75 and S-125 remain in service.
War in the air
The NAA Air Force has only one squadron of MiG-29 fighters (15 units) and one bomber and assault regiment on the Su-24 and Su-25 (more than 20 units). Also, 26 MiG-29 transport and combat helicopters can be used to engage targets. 24. Support tasks are solved with the help of 4 military transport aircraft and 20 Mi-17 helicopters. There are 15 trainer aircraft.
Azerbaijan is trying to build an unmanned aerial fleet. To date, at least 16-18 imported UAVs of several types have been put into service, incl. products with a long flight duration and the ability to carry weapons.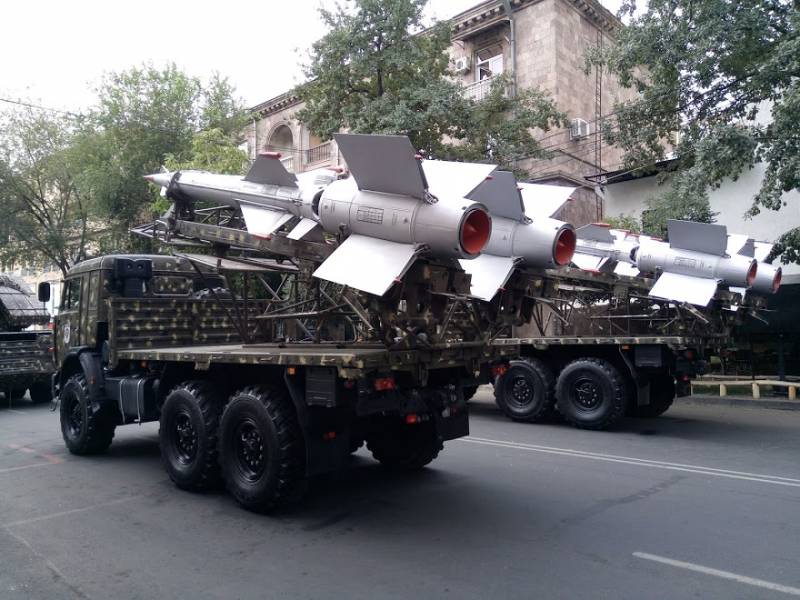 Rare S-125 air defense system of the Armenian army
The Air Defense Forces operate the long-obsolete S-75 and S-125 complexes, as well as the newer Buk-M1. The newest model in their armament is the S-300PM / PMU2 air defense system.
Last year, the Armenian Air Force received 4 Su-30SM fighters, and 8 more aircraft are expected in the near future. Tactical aviation also includes one squadron of 14 Su-25 attack aircraft. There are no more than 10-12 Mi-24 helicopters. Only 4 military transport aircraft are in operation, incl. 3 Il-76, as well as up to 20 helicopters. Educational units have 14 units. technology. Measures are being taken to build the UAV air fleet – through the purchase of imported samples.
The strategic air defense of the Armenian armed forces is being built on the Soviet / Russian-made S-300PT and S-300PS complexes. There are no newer samples.
Numbers and potential
It is easy to see that the armed forces of Azerbaijan are superior to the army of Armenia in terms of quantity and quality. One of the main prerequisites for this is the difference in economic performance. Thus, Azerbaijan's GDP exceeds 47 billion US dollars, while in Armenia this figure does not even reach 13.5 billion. Due to this, Baku can allocate more than 2.8 billion for defense, while Yerevan has a military budget of only 1.38 USD billion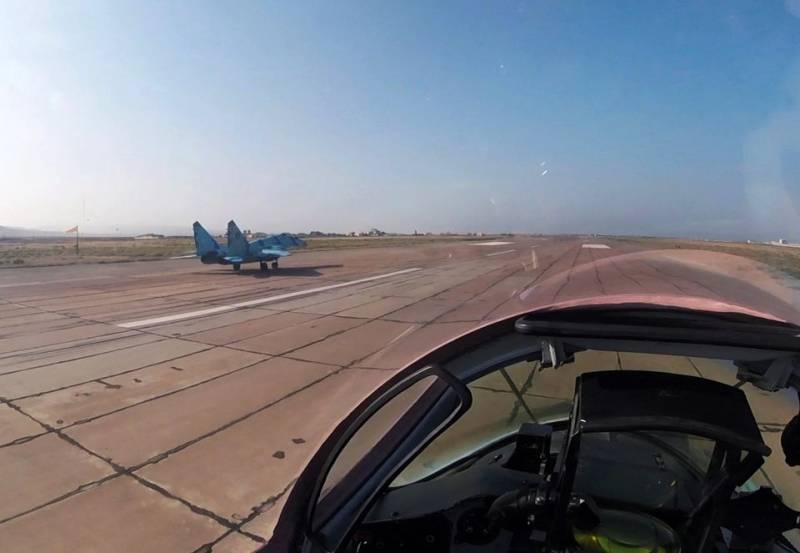 Azerbaijani fighters MiG-29
However, realizing the numerical and economic advantage is extremely difficult. In recent decades, the NKR, with the help of Armenia, has constantly been preparing to repel the attack of Azerbaijan and has built a fairly effective defense system. A breakthrough of such a defense can lead to serious losses of the advancing side, and at the same time to the waste of the main advantages in people and equipment.
NAA does not have an overwhelming and decisive superiority over the armies of Armenia and NKR. As a result, a full-scale conflict can quickly turn into a war of attrition – with low-intensity battles at the front line and with attempts to use long-range systems and complexes to destroy targets at great depths. In this case, the advantages of countries over the enemy and the prospects for the development of events become dim.
Third parties may be involved in a possible war. Turkey has already openly declared its readiness to support Azerbaijan. On the side of Armenia, according to various estimates, Iran and Russia can come out – although this possibility has not yet been confirmed by officials. One way or another, the participation of a foreign country can seriously change the balance of power and give one of the parties to the conflict serious advantages.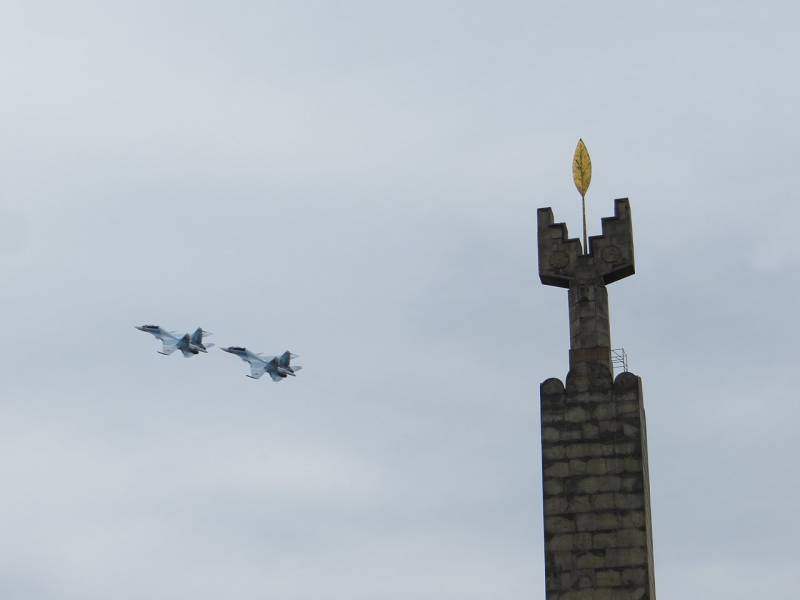 The newest Su-30SM of the Armenian Air Force
War or peace
The next stage of the armed confrontation in the Nagorno-Karabakh Republic began a few days ago, and over the past time all sides have suffered significant losses. Despite all intentions and actions, none of the parties to the conflict can count on a quick and decisive victory. On the contrary, there are risks of dragging out battles and / or involving third countries in the conflict – with obvious negative consequences.
The existing correlation of forces between Azerbaijan, Armenia and the unrecognized Nagorno-Karabakh Republic is such that the continuation of the fighting will not be able to radically change the previously existing situation. Accordingly, the best way out is a ceasefire and a return to the peace process. Most likely, this will not allow countries to quickly get all the desired results, but it will prevent new senseless losses.