Translation of the article "Wir gratulieren der Deutschland" published in the German anthology "Schiff Classic" for 2020.
By: Frigatten Reserve Captain Hans Karr
Translation: Slug_BDMP
Pictures: https://deutschland-a59.jimdo.com
Translator's note. In Russian-language sources, this ship is often called a cruiser, there are even such "pearls": "Deutschland became the smallest German cruiser after 4385-ton Brummer and Bremse", "had too light weapons for its size (without missiles). The technical equipment was rather impractical and varied, adapted for educational purposes. " What really was this really strange, but at the same time very beautiful ship?

2020 gives two reasons to remember this ship, which was once the largest in the FRG fleet. 60 years ago (November 5, 1960), he left the stocks. And 30 years later (July 28, 1990) he was expelled from the Bundesmarine.
The first years of the Bundesmarine's existence were characterized by a rapid growth in the number of ships. At first, these were ships and boats inherited from the maritime border guard, then significant assistance came from new NATO partners. In parallel with this, a large-scale shipbuilding program was launched. A large number of ships and boats of various classes were built, one after another entering into service. All of them had to be manned by well-trained crews. For this, the fleet needed a modern training ship. Its design and construction were included in the shipbuilding program.
Development of
The military presented two main requirements to the shipbuilders:
– accommodation for 250 cadets;
– equipping the ship with the maximum possible number of weapons systems, electronic and electromechanical equipment, similar to that available on the warships of the fleet.
This was not an easy task for the designers. In addition, this naturally led to an increase in the size of the ship, which, in turn, required a special permit from the Western European Union (WEU). Indeed, at that time the FRG had the right to build warships with a displacement of up to 3,000 tons.
After an official request, WEU in the fall of 1958 issued a permit for the construction of a ship with a displacement of 6,000 tons, the document also stipulated the parameters of the maximum speed and armament.
For a ship of this size, it seemed possible, at least in the event of war, to perform other tasks. Therefore, the development took into account the possibility of quick and inexpensive conversion into a minelayer, military transport or hospital ship.
Building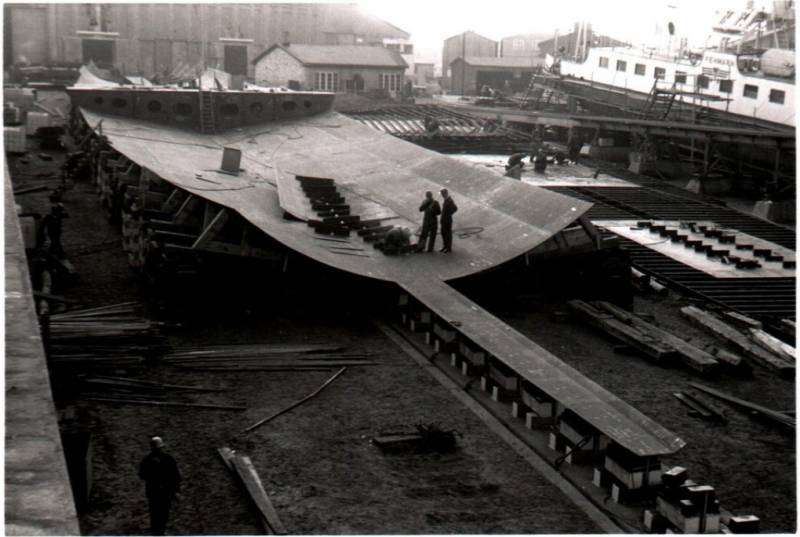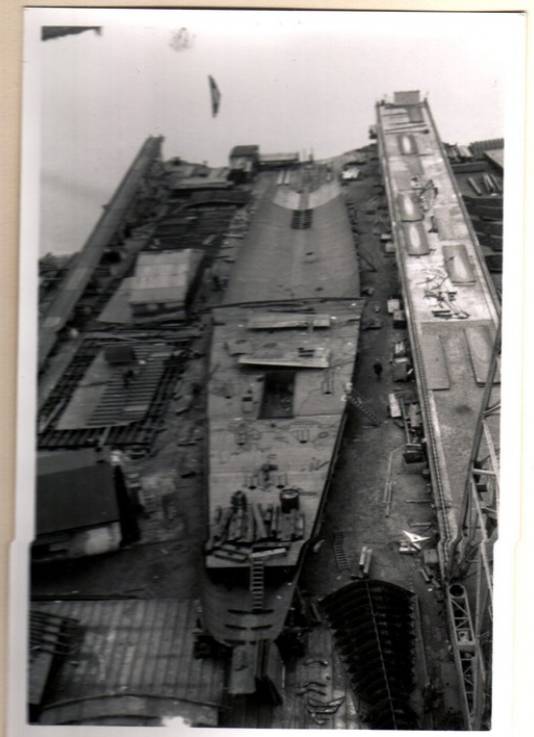 On September 17, 1959, the ship was laid down at the Nobiskrug shipyard in Rendsburg. A year later (November 5, 1960), he was launched. Initially, it was going to be called "Berlin", but for political reasons it was abandoned. And at the launching ceremony, the wife of the then President of the Federal Republic of Germany Wilhelmina Lubke named him "Deutschland" (Deutschland).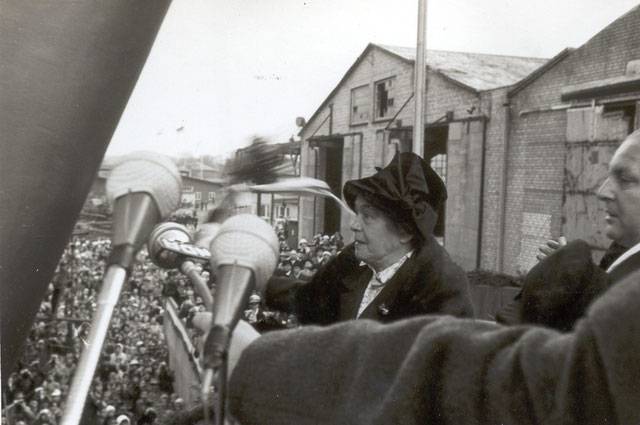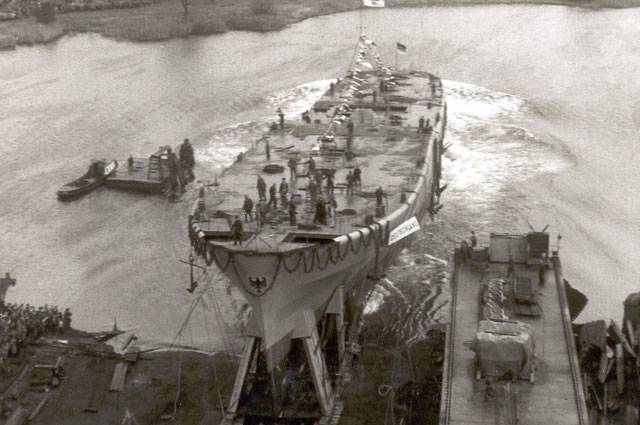 "This is not a class 1 battleship. It is designed to fulfill the important task of training seafarers. Therefore, armament and high speed are not as important as the conditions that ensure the educational process ",
– so said at the launching ceremony the inspector of the Navy, Vice Admiral Friedrich Ruge.
Another two and a half years passed before the flag was raised over the Deutschland.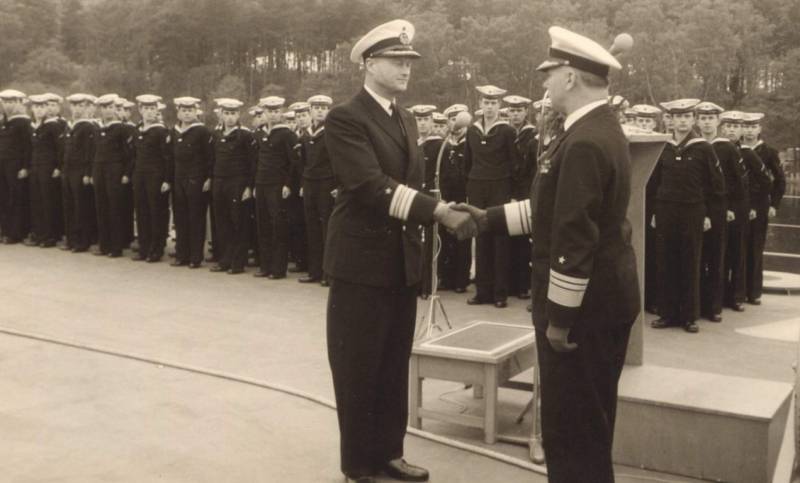 The project cost was 95 million marks.
Initially, the Deutschland became part of the Command of Training Ships, and from October 1, 1966 until the end of her service, she was transferred to the disposal of the Naval Academy in Mürvik.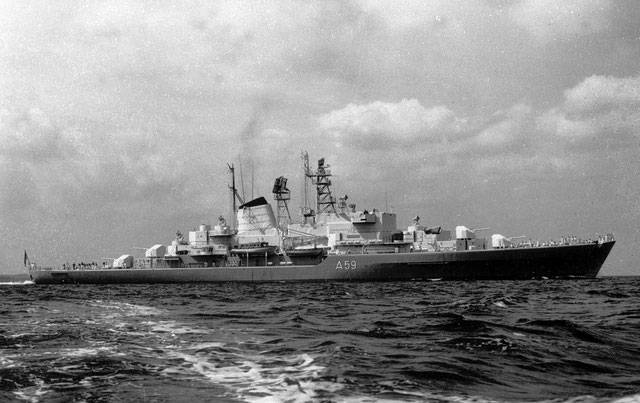 Equipment and weapons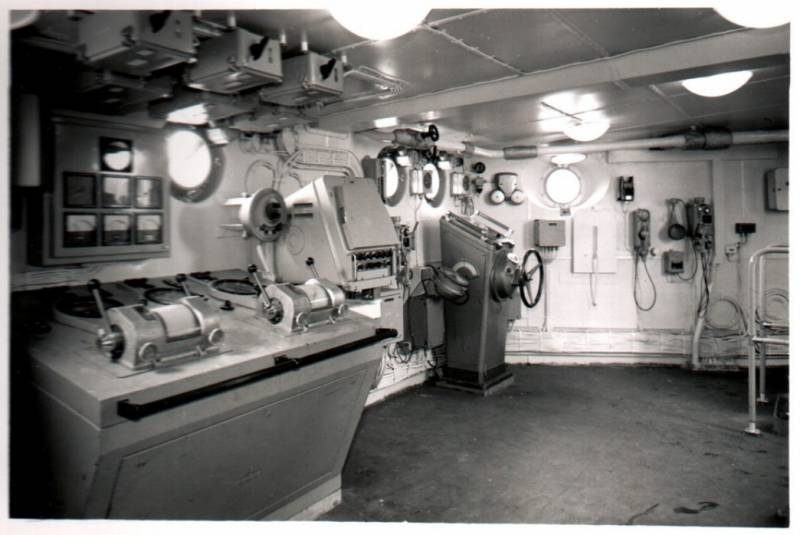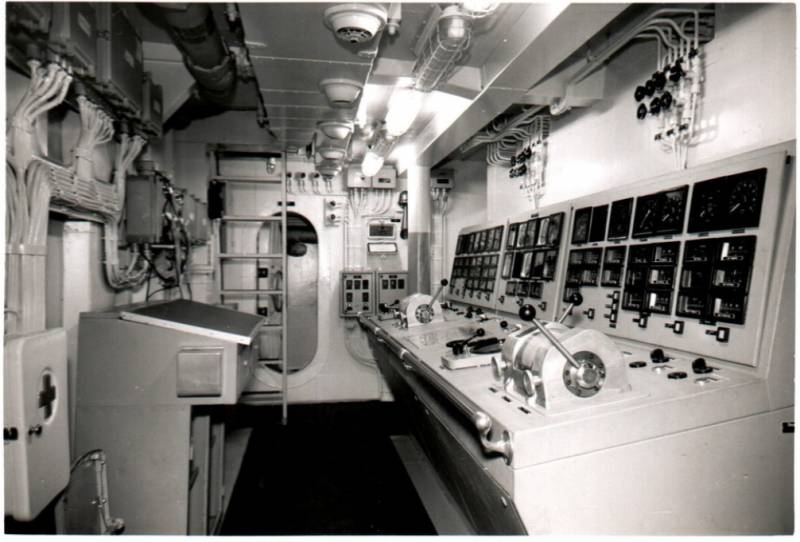 The ship's propulsion system is mixed and includes diesel engines and a steam turbine. The propellers are three four-bladed variable pitch propellers. Each of the outer shafts is driven by two diesel engines, and the central one is driven by a turbine.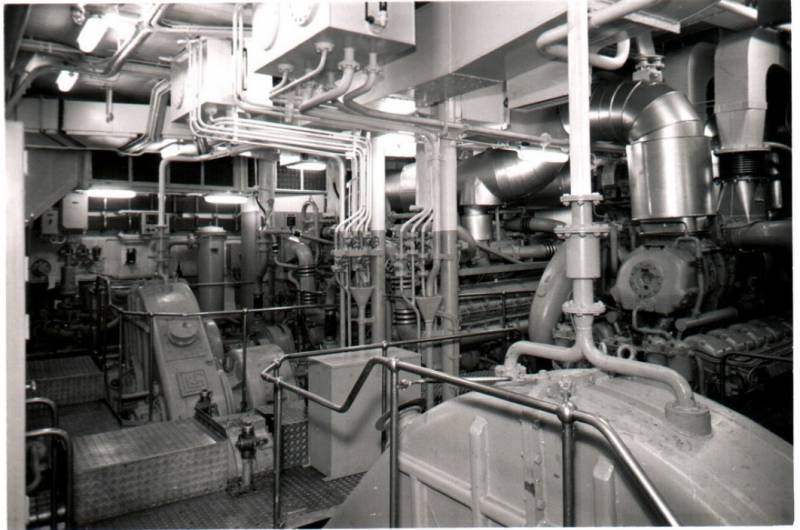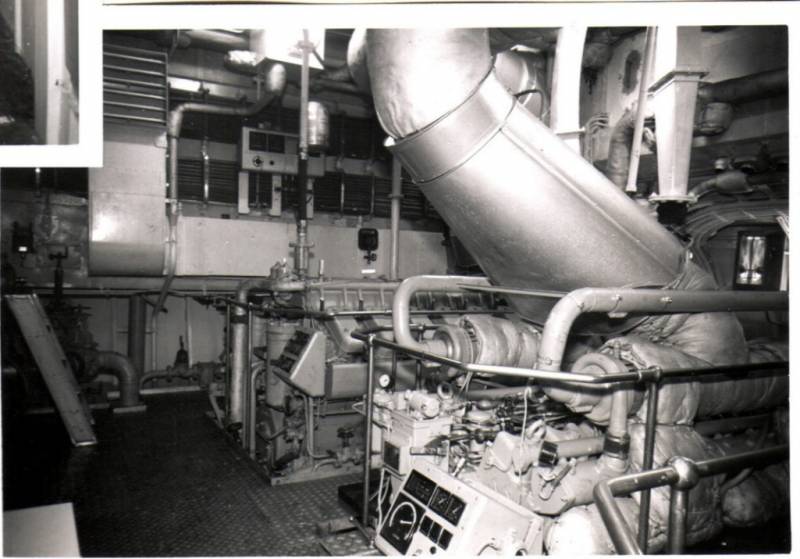 When designing weapons, they were guided by warships under construction.
The artillery consisted of four 100-mm guns in single-gun towers, located in a linearly elevated position, two at the bow and at the stern of the ship.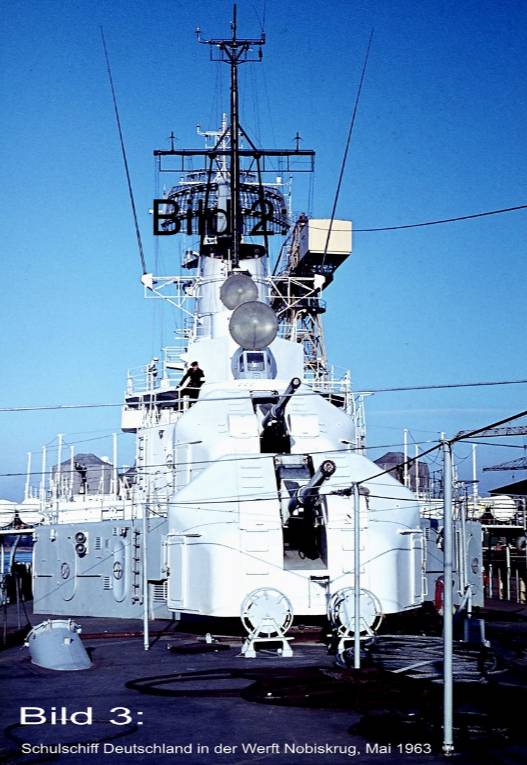 Main caliber gun mounts. Above them are fire control stations.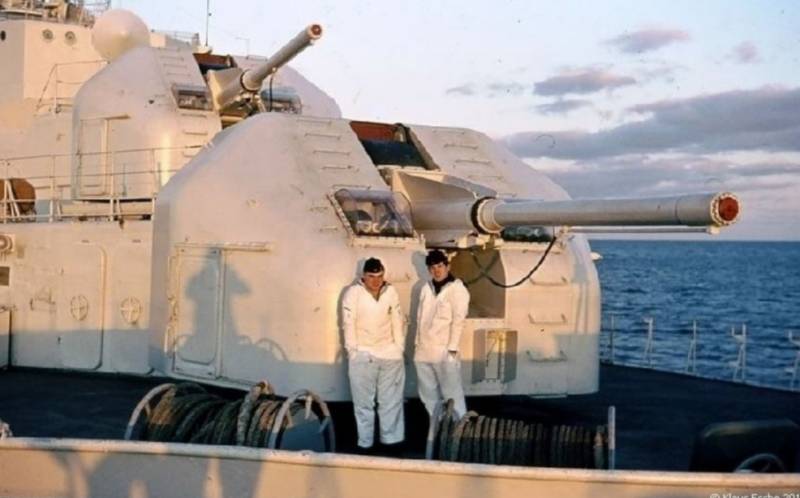 They were supplemented with two single-gun 40-mm Bofors mounts and two twin, as well as 40-mm Breda mounts.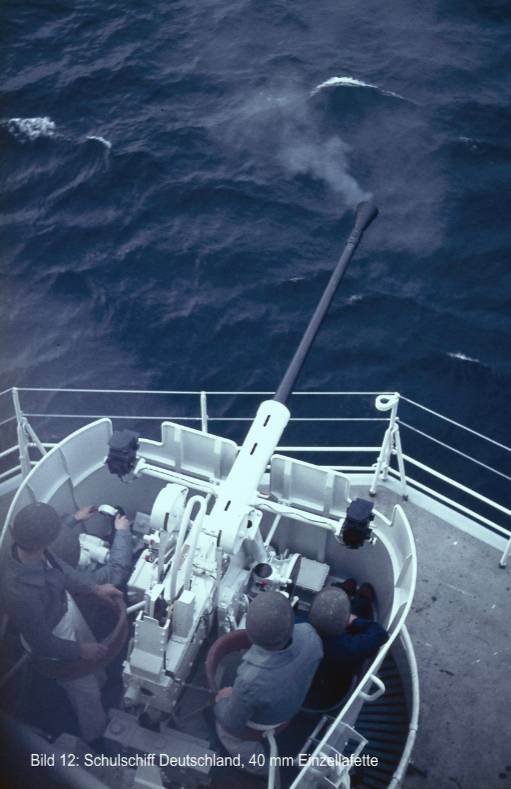 Anti-aircraft gun Bofors.
To combat submarines, there were two Bofors four-tube rocket launchers.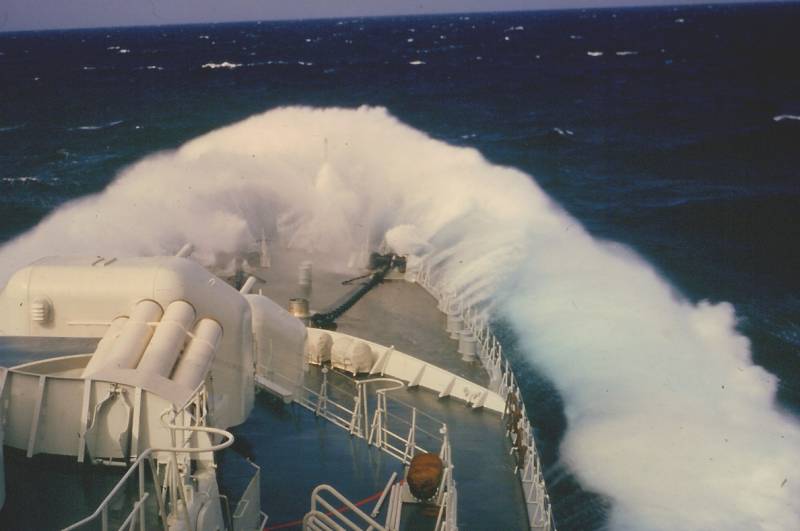 Bofors four-tube rocket launcher.
There were also devices for dropping depth charges.
Until the mid-70s, there were two fixed 533-mm torpedo tubes at the stern.
If necessary, it was possible to install 75-meter mine guides.
The electronic equipment also corresponded to that used on warships under construction.
Service
For 27 years of service, the training ship with the tail number "A59" made 42 foreign voyages, during which he visited 75 countries and 230 harbors.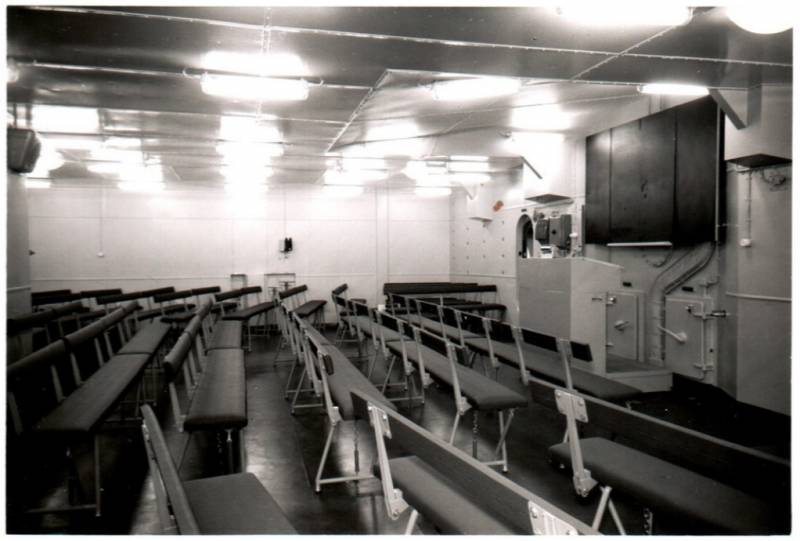 Astern, he left 725,000 nautical miles, which is approximately 33 the length of the equator.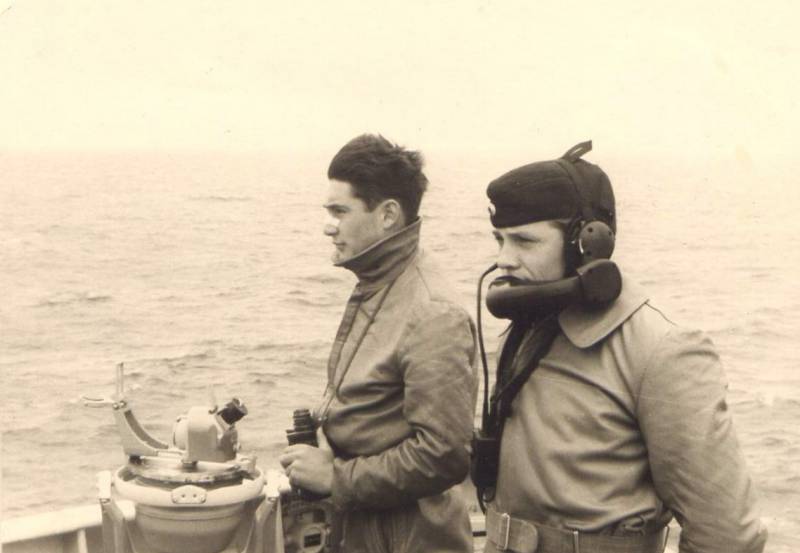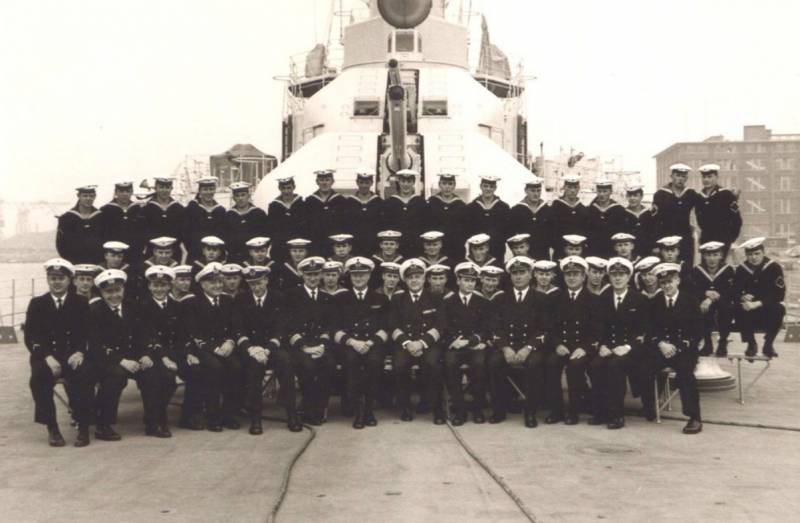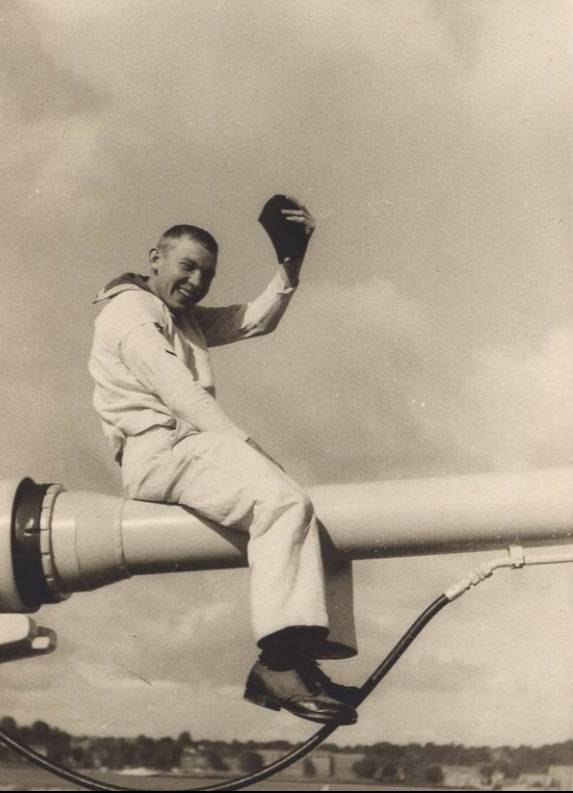 All over the world, officers, sailors and cadets of Deutschland (envoys in blue) represented their country. Chancellors and presidents of the FRG also made their foreign visits there.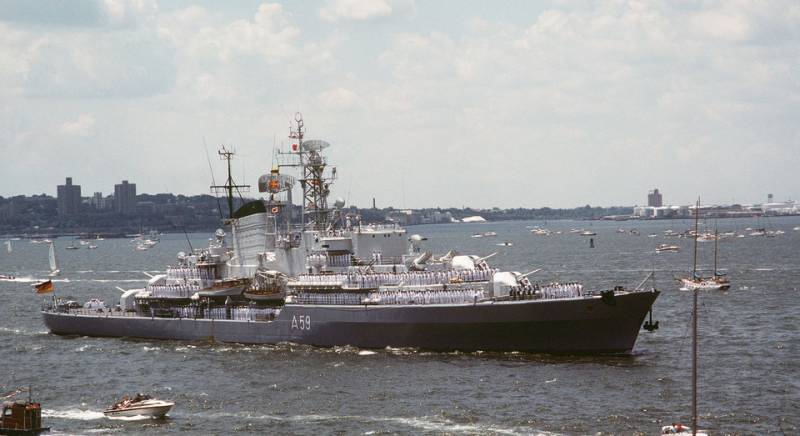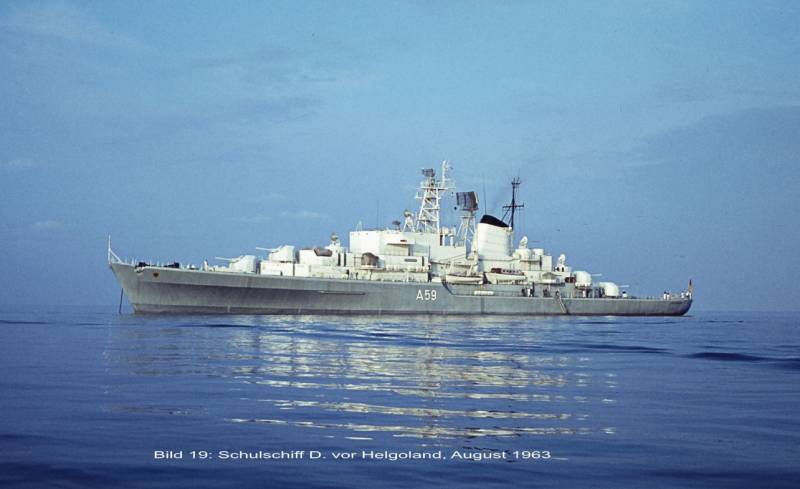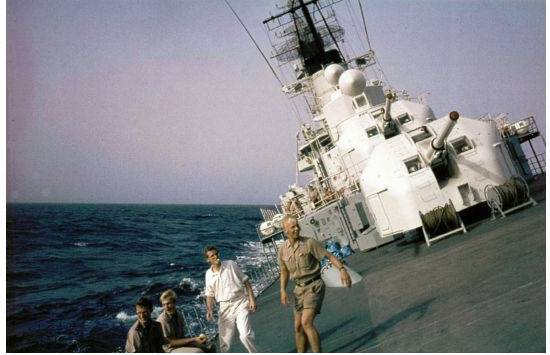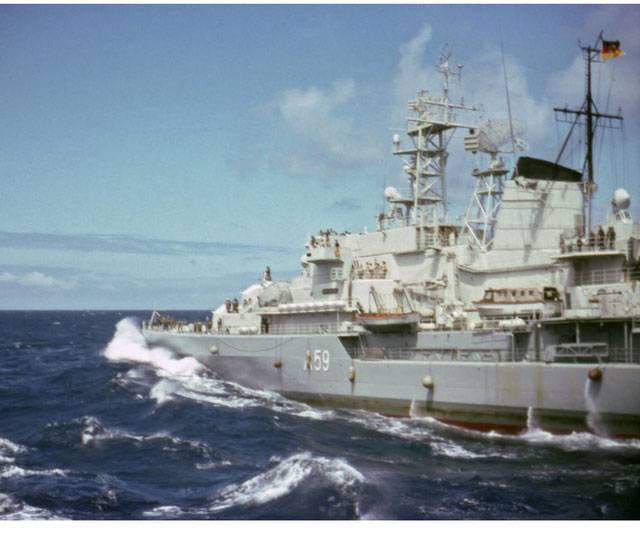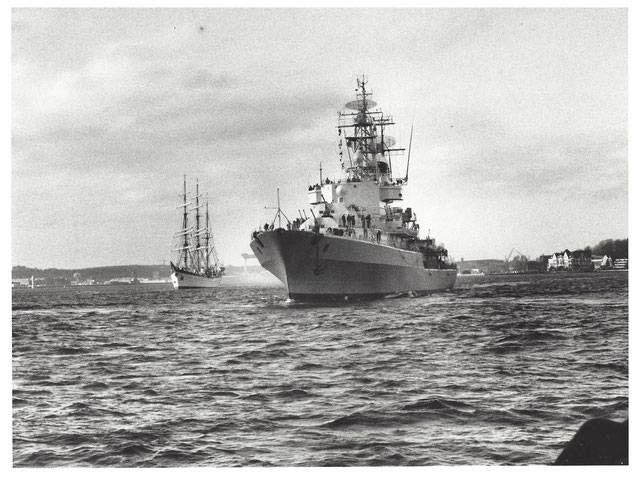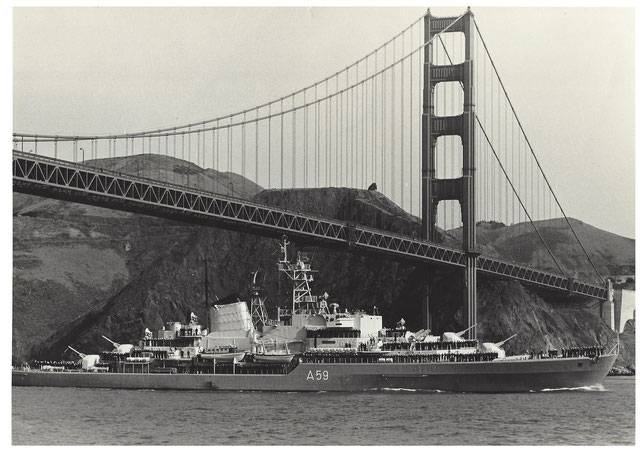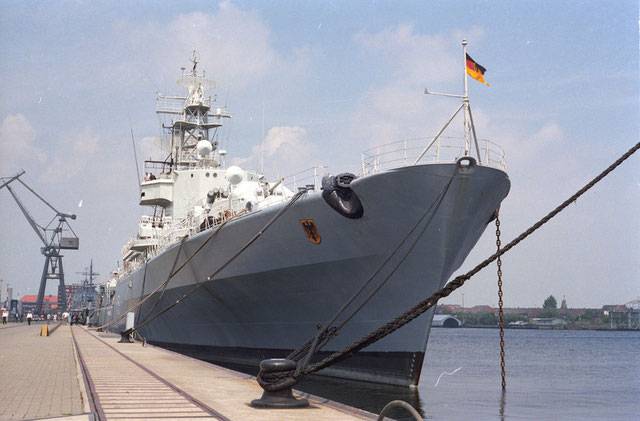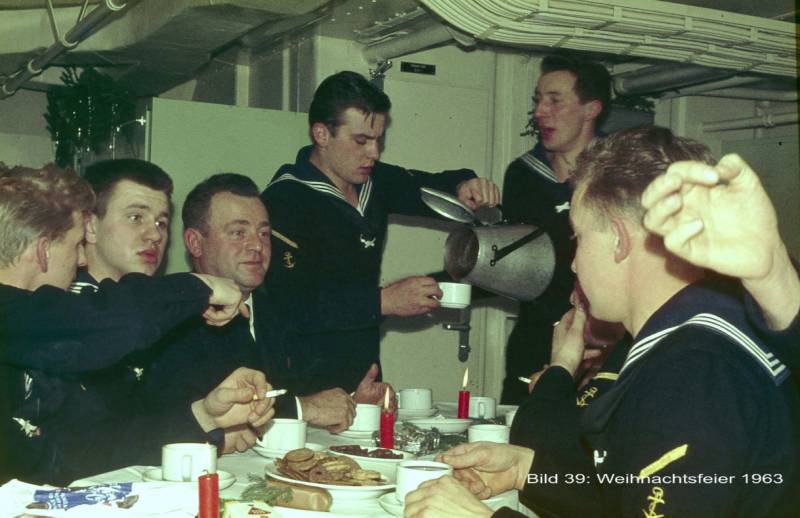 Final
But as time went on, the ship was not getting younger, the cost of its maintenance grew. Major repairs and modernization were required, the cost of which was estimated at 40 million marks. All this led to the fact that in June 1989 it was decided to exclude him from the fleet. In March 1990, Deutschland made its last sea voyage to the naval arsenal in Wilhelmshaven.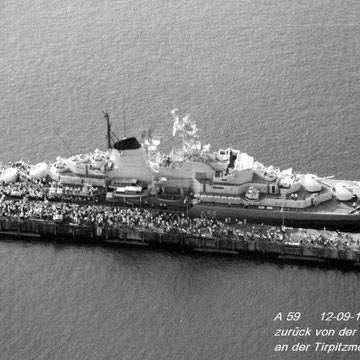 Farewell to Deutschland.
A struggle began to preserve the well-deserved ship. There were projects to convert it into a museum or a floating hotel, but they were not implemented. This required very high costs of disarmament and bringing it into line with civilian standards. In addition, high operating costs were expected.
As a result, in 1993 the ship was sold for scrap and towed to the Indian Alang, where it ended its days. Since then, the training of cadets has been carried out on ordinary ships of the Bundesmarine.
Specifications
Class and type: Type 440
Displacement:
– standard 4 880 tons
– full 5 684 tons
Length: 130 m
Width: 16.1 m
Draft: 5.1 m
Power point:
– 2 diesel engines Mercedes-Benz and 2 diesel engines Maybach, all 16-cylinder, 4-stroke (Maybach engines replaced in 1981 with Mercedes-Benz engines) drive two external shafts
– 2 Wahodag boilers feeding 1 set of Wahodag geared steam turbines driving the central shaft, 16,000 liters. with. (12,000 kW)
Propeller: 3 × 4-bladed Escher-Wyss variable pitch propellers
– 2 steering wheels
Fuel stock: 643 tons of fuel oil and diesel fuel
Speed:
22 knots
Sailing range:
3,800 miles at 12 knots
Boats and landing craft:
– 3 motor boats
– 3 motor boats
– 30 life rafts
Crew:
172 officers and sailors and up to 250 cadets
Electronic weapons:
– РЛС: LW-08, SGR-114, SGR-105, SGR-103, M-45
– ELAC 1BV hydrolocator
Armament:
– 4 guns Creusot-Loire caliber 100 mm / barrel length 55 calibers in single installations
– 2 × 40-mm anti-aircraft guns Bofors in single mounts
– 2 x 40-mm twin anti-aircraft guns Breda
– 2 fixed 533-mm torpedo tubes in the stern (removed in the mid-1970s)
– 2 × Bofors four-tube 375-mm anti-submarine bombers;
Possibility to install min.
Other equipment:
– 2 taps
– 3 anchors (one at the stern, two at the bow).